Circuitry Issues
Availability of power is essential for a washer to run, but so is the entire circuit. The whole circuitry of the washer must be complete when you close the door or lid, and the latch makes the click sound to indicate there is a firm fit and lock. If any phase of the circuitry is broken or malfunctioning, then your washer won't run. It could be the touch sensor, or switch and knob in older models. It could be the control panel for the user. It could be the central control board, which is the hub of the entire circuit.
Circuitry issues are complicated. Most require an expert to inspect and detect the actual problem. Circuitry issues may call for replacement of the broken or malfunctioning part. For instance, the sensor has to be replaced if it is broken. A defective control panel may need to be replaced. Distinct phases have separate components. Those broken or failing could be repaired or replaced depending on the condition. Our technicians can carry out washer repair onsite and on the same day in Miami.
Failing Components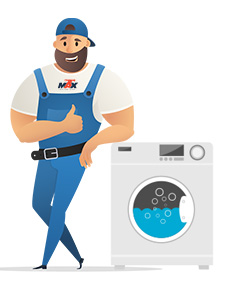 A washer won't run if there is no power, during massive voltage fluctuation, with a broken sensor or disrupted circuit. While it is easy to figure out if the fuse is blown, lid switch is working or not, sensor is unresponsive and if the control panel is not functioning, a thorough inspection is necessary to find out if the motor has failed, if the pump is broken, if the drive belt has come apart, if the drum is not operational, and if the relay is malfunctioning. Call Max Appliance Repair for same-day inspection and washer service in Miami.
Call our team at (786) 733-9343 for expert appliance repairs.