Check Controls and Settings
Modern refrigerators allow users to regulate the specific temperature one would want the fridge to sustain. Check this setting. If you have set a rather high temperature, then reduce it to an extent wherein the fridge gets cold enough. Inadvertent errors could lead to a change in this temperature setting. If the setting is fine, check how much load you have in the fridge. Overloading can cause a fridge to get warm. If your fridge has other controls, then check all such settings to be sure that there has been no inadvertent error to change the regulatory features of the appliance.
Check the Accessible Parts
A fridge has several accessible parts. Other components are not conveniently accessible, and a technician is better equipped to handle such complexities. You can check the gasket, if there is any leak or if the seal has worn out. Damaged gaskets can leak cold air, thus leading to a warmer fridge. The vents inside the fridge may be blocked. This would prevent smooth airflow. Impaired airflow will raise the temperatures in certain parts of the fridge.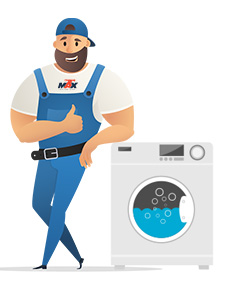 If you can access the evaporator, then check the fan for dust, dirt, and grime. If the fan is not functioning properly, then the fridge will not be cold enough. Check the defrost drain. If the hose is clogged, then the fridge would get warmer than expected. You may also have a problem in the thermostat, including its sensor, the compressor or the coolant, the condenser and its coils, and the evaporator. Failure of mechanical, electronic, and electrical parts of a fridge is not uncommon. Our technicians can replace damaged parts and carry out comprehensive fridge repair in Miami.
Call our team at (786) 733-9343 for expert appliance repairs.