Causes of a Broken Freezer
You may have a broken freezer if there is a sustained disruption of power, not to imply there is no electricity but the connection is kaput. The circuit breaker may have tripped. All freezers have a thermal fuse. You may be able to restore the circuit breaker or fix the thermal fuse. If there are minor problems, such as a broken power cord, damaged socket, or unresponsive plug, then you can have these replaced.
More often than not, a completely broken freezer is due to one of its more crucial components malfunctioning or failing to operate. These could be the thermostat, compressor, condenser, evaporator, sensor, defrost system, and other parts that support the functioning of these features. The crucial systems may be fine, yet some of their parts could be broken. For instance, evaporator fans may not work, the sensor in the thermostat may be defective, the condenser coils may have developed some flaws, the compressor may have failed, and there could be sufficient loss of coolant, or refrigerant.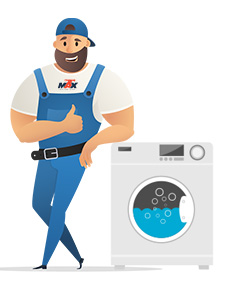 Different supply lines and drain hoses can also have a blockage. Unclogging these can restore the freezer. There is no way to know for certain unless a broken freezer is comprehensively studied and all potential causes are assessed. A freezer has electrical, electronic, and mechanical parts. They work in synergy for the freezer to function. One or more of these parts can be unresponsive or broken. These must be repaired or replaced.
Call Max Appliance Repair in Miami, for same-day inspection and service. Our technicians would complete freezer repair onsite, including replacement of parts, if necessary.
Call our team at (786) 733-9343 for expert appliance repairs.