Clogged Lint Trap
The filter in a dryer, also known as lint trap, will have gradual buildup of debris. This buildup will smell in due course of time. The odor would turn from subtle to obvious. You do not have to clean this filter after every drying cycle, but having a routine helps. If your dryer has a bad smell, the first checkpoint is the lint trap. It is probably clogged. It is also possible that the filter is broken. In that case, you must have it replaced. Our technicians can clean, repair and replace lint trap, as warranted in a given situation.
Poor Airflow ; Heat
Clothes dry well when the appliance delivers the requisite heat and optimum airflow. The same heat and airflow are also responsible for efficient cleansing of the dryer itself. If moisture is retained in the dryer, if the condensation is incomplete, or both happen due to inefficient airflow and ineffective heat, then you will have a foul smell. The bad odor will be almost unrealizable initially, but you may suddenly smell it before or after a cycle.
Blocked Inlet ; Outlet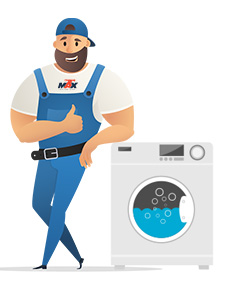 If the heating element and airflow circulation don't seem to be the causal factors, then the inlet and outlet could be blocked. Either or both being blocked would lead to moisture retention, poor heating and inconsistent airflow. Clean the inlet and outlet to enable convenient ventilation. It should be noted that these features should work well during the cycle for the appliance to be bereft of bad smell.
Broken or malfunctioning components in a dryer can be the direct or indirect cause for bad smell. Such parts must be replaced immediately. Our technicians can carry out onsite inspection and dryer repair on the same day, including replacement of parts, throughout Miami.
Call our team at (786) 733-9343 for expert appliance repairs.