Sources of Strange Noises
Dryers can make different types of quaint noises. You may hear it squeak, squeal, or screech. You may also hear thumping noises or a grinding noise. Let us understand why the appliance makes these distinct noises. The squeaking sound is almost always due to a failing idler pulley. This pulley is responsible to maintain the necessary tension for the drum belt to operate properly. If the tension is failing or the pulley is not doing its job as intended, then you would hear the squeaking noise during the spin mode. Our technicians can repair, or if necessary, replace the idler pulley.
You may hear a squealing sound coming from your dryer. This is often owing to a defect in the drive belt. The drive belt may be frayed or cracked. Any physical damage to the drive belt, and its mechanical malfunction, would generate an audible strange noise. The drive belt may not be broken completely. Somewhat or extensive wearing out can also generate loud noise. Preventive maintenance can avert such problems. Else, you would have to get the drive belt replaced.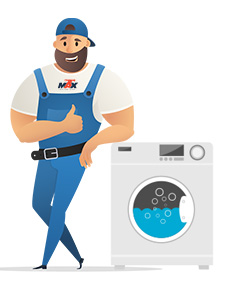 Dryers make a thumping sound if the drum seal is broken or torn. If the seal allows sufficient air to seep in, then too you would hear a thumping noise. You would hear a grinding noise if the support bearing for the drum is worn out. If the support rollers for the drum are malfunctioning, failing, or are broken, then you would hear a screeching sound. All such strange noises made by your dryer must be investigated. The appliance should be diagnosed thoroughly. Our technicians can carry out onsite inspection and dryer repair on the same day.
Call our team at (786) 733-9343 for expert appliance repairs.