Vibration vs. Reverberation
A dryer reverberates at distinct phases of its runtime. The spin cycle, for instance, will have some resonance. Whenever the heating element gets to work, there could be some reverberation. Not all resonance or reverberation produce any cognizable vibration. But, a dryer can be visibly or subtly unsteady, and there can be abrupt quaint vibrations.
Causes of Vibration
Check the leveling of the dryer. If it is stacked, then check the entire alignment. Any dryer that is not leveled, will vibrate and the vibration can become quite aggressive in some extreme cases. Check the feet of the dryer. If there is a stand or platform on which the dryer is mounted, then that should be inspected. You must also check the immediate surroundings of the dryer, whether other appliances nearby are operating at the same time or not.
Once you verify that your dryer has a sturdy footing, you should check the load to ascertain if it is optimum. A dryer should not be overloaded. It should not have very little load. All appliances are designed to function at their best when serving the intended optimum capacities. Dryers tend to balance the load, and there may be a transient vibration during this process. There is no reason to worry during such temporary normal vibrations.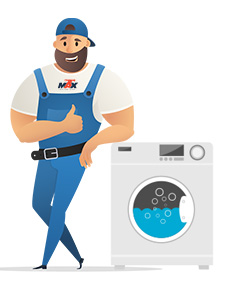 If your dryer is vibration due to malfunctioning components, then you need our technician to inspect the appliance and recommend a fitting solution. From the drum to the belt that supports it, the electrical circuit of the appliance or the electronic sensors, malfunctioning of any of the crucial components can cause aberrations, including vibration. We can carry out onsite dryer repair, including replacement of broken parts.
Call our team at (786) 733-9343 for expert appliance repairs.