Broken Drive Belt
A broken or failing drive belt will lead to dryer not spinning. The drum needs the drive belt to sustain its tension and hold the components in place for efficient and effective spin. It is possible that the drive belt is not yet broken, but the drum may have loosened due to some reason. Irrespective of the precise nature of the problem, a technician must access these components and test them to draw any inference.
Broken Drum Rollers
Broken or worn out rollers will prevent the spin. Depending on the model of the dryer you have, there could be several rollers. The motor powering the dryer will not work effectively if the drum rollers encounter any obstruction, if they are misaligned, or if they are failing due to some reason. Replacing the drum rollers is a solution. If associated or connected parts are a problem, then a technician must check those.
Broken Roller Axles
No component in household appliances is indestructible. Like the other mechanical parts, the roller axles can also wear out in due course of time. If these axles do not function as intended, then your dryer will not spin. Changing the axles is a solution. If fitting or alignment is an issue, that can be addressed too.
Broken Drum Glides ; Bearings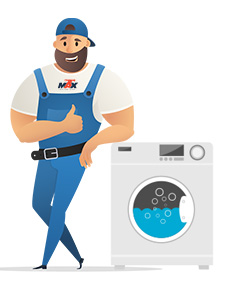 Plastic drum glides can break down. Drum bearings can also wear out. Both, glides and bearings, are crucial for a drum to work perfectly. If either is failing, then the spin would be adversely affected. The dryer may not spin at all.
Call our team at (786) 733-9343 for expert appliance repairs.