Simpler Problems
While no problem may be truly considered as simple, a few issues are actually complicated and require extensive inspection, followed by extensive repairs. The simpler problems why your dishwasher won't turn on are tripped circuit breaker or blown fuse, malfunctioning power cord or plug, broken latch or door, and unresponsive user control panel. The latter may get complicated if the issue is beyond the user interface. Our technicians can fix the fuse or restore the circuit breaker, replace the power cord or plug, attend to the broken latch or door, and carry out onsite dishwasher repair at your home.
Complex Problems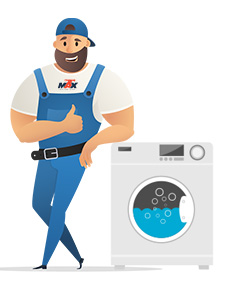 There are several probable complex problems that could prevent the dishwasher from starting. The sensors could be broken. The thermostat may be defective. There could be flaws in the circuit. Any of the mechanical, electronic and electrical components could be broken, and thus the dishwasher won't start. For instance, the water inlet pipe may malfunction. The power connection or circuit inside could be ruptured. There may be a wiring issue, the motor and pump may not work, the heating element could be flawed, and other components could be failing.
Selector switch, start relay, timer, electronic controls, drive motor, and dispensers inside the appliance may have failed. The entire control board may have to be replaced if it is beyond repair or restoration. Our technicians would inspect all these probable causes, detect the actual problem, and put forth the most fitting recommendation. We can carry out complete dishwasher repair at the site, including the replacement of broken parts if necessary. Our same-day service is available throughout Miami.
Call our team at (786) 733-9343 for expert appliance repairs.